Fukushima Daiichi Nuclear Power Plant Accident Analysis due to Atmospheric Dispersion
---
Ground level air concentration [Bq/m3]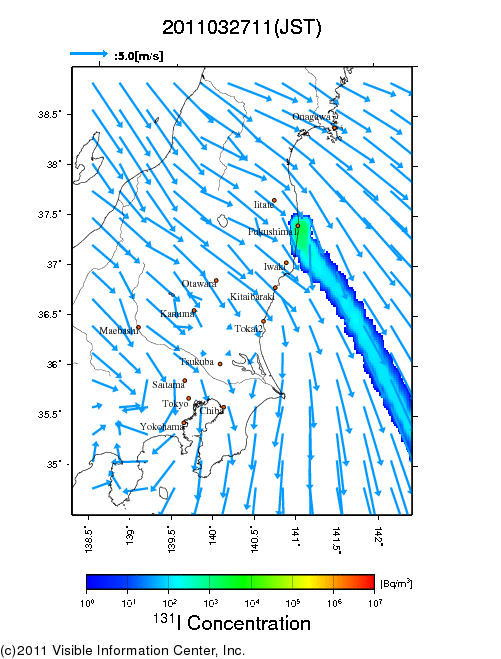 Conditions
Table 1 Conditions

| Items | Contents | Reference |
| --- | --- | --- |
| Models | Meteorological model:RAMS, Particle transport model:HYPACT | ATMET |
| Period | March 12th, 2011 - April 7th, 2011 | |
| Range | 600 km x 600 km with Fukushima Daiichi Nuclear Power Plant in its center | |
| Horizontal lattice | Grid1:600×600[km]、10km mesh | |
| Vertical lattice | σ-z coordinate system, Grid with 20km altitude divided into 30 layers | |
| Radioactive material released | Iodine - 131 | |
| Release rate[Bq/s] | Assumption based on released amount estimated by Nuclear Safety Commission*1 | |
| Release height | Normal:30m, Explosion:30m-200m | Based on press release |
| Decay process | Radioactive decay, dry deposition and wet deposition by precipitation | |
| Dry deposition velocity | 0.01m/s | |
| Washout parameter α | 1.2×10-4 | |
| Washout parameter β | 0.8 | |
| Number of released particles | ca. 20 million particles | |
| Meteorological data | MSM (Meso Scale Model) isobaric surface data and AMeDAS precipitation*2 | Japan Meteorological Agency |
| Topography data | 50m mesh numerical map | Geospatial Information Authority of Japan |
*1 At this point of time, accurate release amount is still unknown. We estimated the release ratio by multiplying coefficient and dose rate at main gate of the facility.(Fig.2)
*2 Precipitation map made from AMeDAS data was derived and applied because precipitation data produced by a meteorological model was not sufficient.
These simulations are based on publicly available data and original assumptions. Audience should be aware that accuracy of calculation is limited. We would appreciate audience matter-of-factly comprehend our results. We frequently update the calculation whenever additional information is obtained.
(C)2011 Visible Information Center, Inc.